The 
JD Malat Gallery
 in London's Mayfair is everything you'd expect an exclusive art space to be. The premises are immaculate and highly ordered, the owner and staff even more so.
Into this atmosphere bounces the ever-smiling and slightly chaotic looking Kojo Marfo, an artist who is leading the life he has always dreamed of.
"I don't fit in," he said. "I don't fit into the nine-to-five guys. I fit in to the guy who wakes up in the morning, sits in a coffee shop, and looks around, and observes society.
"So, in a way, I just felt like I wanted to be different. I wanted to be that guy, that crazy old guy who lives in the neighborhood with everyone wondering what he does in his house."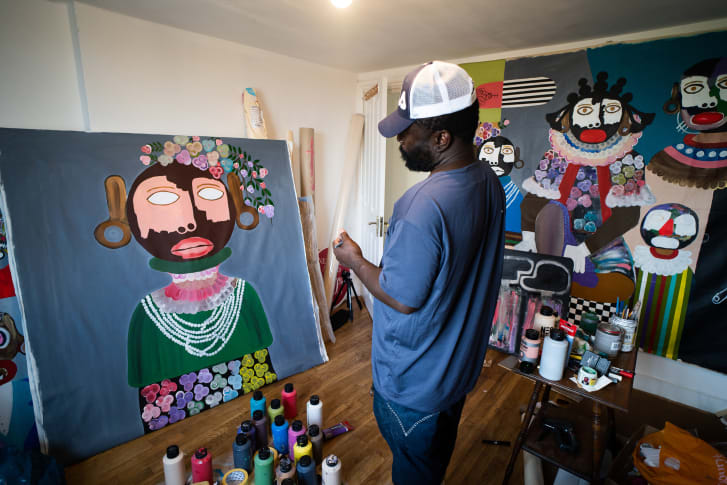 What he does in his house-cum-studio, a suitably shambolic set-up in south London, is attracting an ever-increasing following. His recent work is flying off the walls, and a sold-out show at the JD Malat Gallery is the latest accolade in a long list of achievements. Vindication, perhaps, for a lifestyle he has never compromised.
The work Marfo produces is big, bright and bold, but he doesn't necessarily want it to be beautiful, choosing instead to create pieces that "speak truth to power."
"I don't want to paint beautiful people," he said. "I don't want to make beautiful art. I could paint potatoes and flowers and stuff like that and give it to the world … but my idea is actually creating these images and using these images to bring so many stories out there."
"I'm trying to create something that could spark conversation. Basically, that's all my work is about: to start a conversation. Let's talk about this issue, let's talk about that issue."
Read the full article on CNN here.