A year after its triumphant opening, Mayfair's JD Malat Gallery is throwing a colourful, month-long birthday party in the form of the first-ever London show of Los Angeles-based artist Andy Moses' work, entitled Echoes Of Light.
Moses has long been working in pure colour, with only a hint of form running through his canvases. Since 2003, he has produced colourscapes in the vein of Rothko, suggestive of mysterious, foreign worlds – a burning, orange Sahara reflected in the sky above in one, or a marshland of opalescent, oil-spill silver in another. Moses moved from New York back to his native Los Angeles in 2000; the visual transition from a vertical, skyscraper-punctuated city to the horizontal urban sprawl was one that spurred him to paint his pseudo-landscapes, as was his penchant for gazing out of the windows of planes on flights, surveying the unknown below. As an adolescent, Moses watched Stanley Kubrick's 2001: A Space Odyssey on the massive, curved screen at LA's Cinerama Dome, an immersive experience that informed his own concave canvases. "I want them to refer to landscape without becoming landscape," he says. In 2017, he made the move to working on circular canvases and the coloured, alien landscapes became 2001-esque tunnels of light, simultaneously resembling planets and microscopic forms.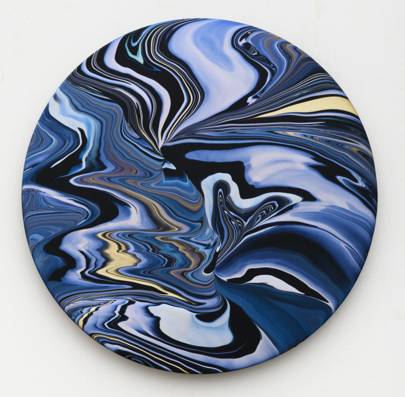 Echoes Of Light has its roots in the upper strata of the international art world. Jean-David Malat first met Andy Moses at a Jeff Koons show opening in New York in 2017. The show, the gallery's eighth, grew from there. The artist Larry Bell, and lifelong friend of Moses and his late father, Ed, was instrumental in its curation, sensibly advising Moses and Malat to avoid overcrowding the show and leaving enough space between the circular canvases for each to have room to breathe.
In transposing the work from the hazy SoCal light to London's changeable climes, Moses has inadvertently spurred a natural comparison to Damien Hirst's "spin paintings" and it's one which he takes good-naturedly, even as he points out the differences between his work and Hirst's. The meticulous layering of paints in the pot, before application, to closely control which colours neighbour each other (and, Moses tells me, which are given space to spread on the canvas – green is expansive, and blue contracts in area, due to the density of pigment in the paint) stands in contrast to Hirst's exuberant, uncontrolled spins of colour. Moses calls the colour patterns, which are very deliberately chosen and composed, the "bandwidth" of the painting, which does little to downplay the impression that he's painting something spacey and infinitesimal – waves shooting out into the universe, forever expanding. Up close, Moses' paints have a pearlescent quality; deliberately otherworldly, they suggest something smoky and subatomic. There's something of Ojai or Carmel in there, something of the optimism of Sixties and Seventies. "Hopefully," says Moses, "psychedelic is coming back."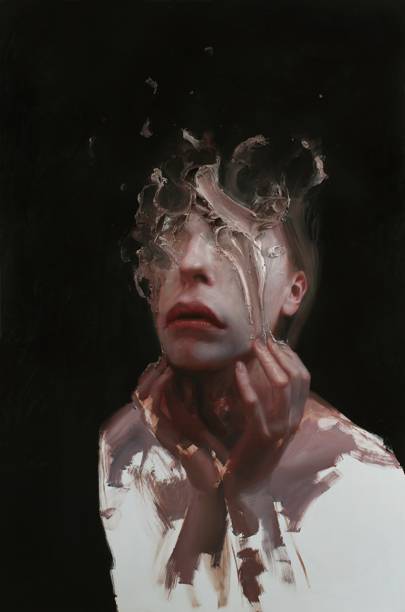 Downstairs, Malat's other artists are on display. The gallery's repertoire is relatively small – 15 artists or so, despite some 50 requests for representation per month – and it's immediately clear that Moses' work is unlike any of them. There's the ice-cream impasto of Henrik Uldalen, the lurid, Bacon-esque (though I'm told he dislikes the comparison) contortions of form splashed across a triptych by the mononymous Zümrütoğlu. Chinese artist Li Tianbing imprisons his figures within dusky canvases and industrial structures. All are deeply engaged with their media and use paint to different effect, but there's less of the metaphysicality of Moses' paintings and a more immediate engagement with the real, figurative world. The variety bodes well for the gallery – and if Moses' show is indicative of the year to come, it looks set to go from strength to strength.
Echoes Of Light is at JD Malat Gallery until 20 July.
Click here for the full article on GQ online.